Your orthomolecular premium protection with over 50 vitamins, minerals and trace elements
Viptamol Complet Forte: The strongest multivitamin
53 vitamins, minerals, trace elements
Powerful antioxidants from nature such as astaxanthin, OPC and resveratrol
Organic protein, vegetable and fruit extracts
Comprehensive provision of everything you need
High dose
Bioactive vitamin C and lots of vitamin D
New with natural beta glucan
Optimised with all the B vitamins and K2
Including basic minerals
Powerful radical scavengers, which are often missing from food
Not a cheap multivitamin but the best ingredients to Swiss quality standards
With lactose-free organic protein
With Forte 2018 you have 240 grams of GM-free organic protein in each container. 100% lactose-free as organic rice protein.
Vegan
Complet Forte 2018 is 100% vegan, as in addition to vegetarian protein, we also use vitamin D3 from moss.
With lots of organic vegetables

2018 contains lots of beetroot, broccoli with beneficial sulphoraphane and cabbage. As you prepare Complet Forte, you will see that it is raspberry-coloured. This is not due to any artificial colouring but to the high quantity of beetroot. It's health you can see. Studies on brocoli, cabbageu, beetroot.
Natural detoxifier MSM
Our 2018 Forte contains 500 mg of MSM. Methylsulphonymethane (MSM) is a natural source of sulphur and a detoxifier. MSM is good for healthy joints, a strong liver, attractive hair and firm connective tissue. Studies on MSM
New: with more turmeric
In 2018 we have more than doubled the quantity of turmeric. The reason why is that modern science is recognising with increasing clarity its multitude of health effects in various studies. The main benefits of turmeric are cancer protection, it raises the level of good cholesterol and lowers the bad, it has an anti-inflammatory effect in the gut, at the joints and in the brain. Studies on tumeric
New: with beta glucans
Beta glucan is a purely natural immune system enhancer, which occurs in the cell walls of plants. Recent studies show that beta glucan is especially effective against allergies, fungi and herpes.
New: twice as much vitamin D
We have doubled the amount of vitamin D. The reason why is that recent research results show that we need more than we previously thought. Adequate vitamin D helps prevent cancer and avoid heart attacks.
New: more selenium
Europe is something of a selenium desert. These days, selenium is even recommended in conventional medicine for cancer prevention. It also provides nerve protection against stress. You now have 33% more selenium than last year.
With organic coconut oil
Coconut oil is a true all-round talent. There are many scientifically proven positive effects on weight loss, inflammation and dental health.
Viptamin-Complet – outstanding organic availability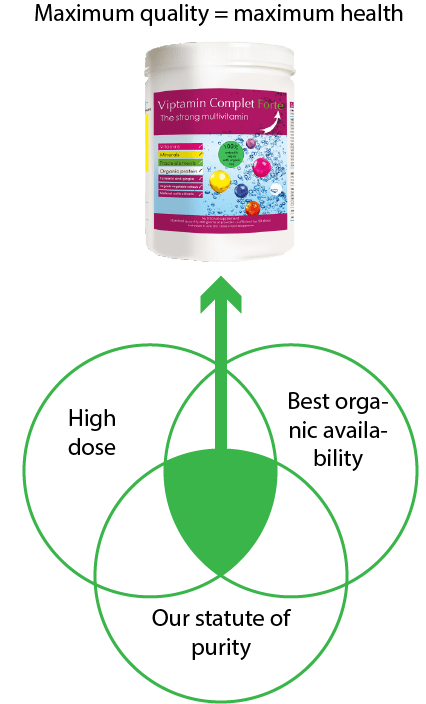 A wide range of enzymes ensures optimum absorption of vital nutrients in your body but we've improved something even more – the organic availability of minerals.
Depending on what a mineral such as magnesium or iron is bound onto, the easier or harder it is for the body to absorb it. We have bound all 10 minerals and trace elements in Viptamin-Complet consistently onto amino acids the body is familiar with, so they are more readily available to your system.
Viptamin-Complet increases organic availability to 80%, which means your system is now capable of absorbing 80% of the vital nutrient.
By comparison: conventional products often have only 10% organic availability, which means with conventional products 90% and more is unused and excreted.
Viptamin-Complet – 100 per cent healthy nature
Our products are of course 100% natural, which means no sugar or artificial sweeteners, no emulsifiers, preservatives or additives; they're lactose and gluten-free and have not been tested on animals.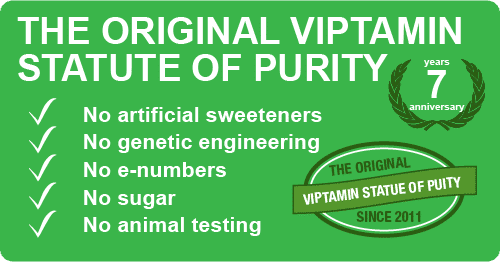 Viptamin-Complet – 20 health benefits at a glance
Viptamin-Complet #1: More than 50 vitamins, minerals and trace elements
Viptamin-Complet #2: All-round supply of all the essential nutrients
Viptamin-Complet #3: Bioactive vitamin C in an orthomolecular quantity
Viptamin-Complet #4: Includes all the B vitamins
Viptamin-Complet #5: Optimised with vitamin B and vitamin K
Viptamin-Complet #6: Includes alkaline minerals and bioactive trace elements
Viptamin-Complet #7: Powerful free radical scavengers, which are often missing in the diet
Viptamin-Complet #8: The ultimate aid to more vitality
Viptamin-Complet #9: Combats the effects of stress
Viptamin-Complet #10: Maximum organic availability
Viptamin-Complet #11: Maximum organic availability
Viptamin-Complet #12: For enhanced vitality
Viptamin-Complet #13: For maximum wellbeing
Viptamin-Complet #14: Improved regeneration and stamina
Viptamin-Complet #15: NOT a cheap multivitamin
Viptamin-Complet #16: 100% orthomolecular nutritional supplement
Viptamin-Complet #17: 100% ideal dosage of all ingredients
Viptamin-Complet #18: Scientifically proven success
Viptamin-Complet #19: Orthomolecular quality guaranteed
Viptamin-Complet #20: Not a medicine
Viptamin-Complet stops the energy deficiency
NB: Only if our energy levels are perfectly adjusted can our body function properly.
NB: If our energy levels fall below 80% of the norm, we feel tired.
NB: If our energy levels fall below 50%, we're vulnerable.
NB: If our energy levels fall below 30% for a prolonged period, the situation is very critical.
NB: Any levels under 10% are seriously threatening.
NB: Many of our organs function with too little or too much energy. Too little energy weakens our organs, while too much energy can also be harmful.
Viptamin-Complet has all the vitamins and minerals
Vitamins and minerals are essential for all stages and forms of energy production in our metabolism. Each individual cell depends on the presence of sufficient vitamins and minerals.
Viptamin-Complet – the natural solution for people today
For people who don't have a lot of time to eat a balanced diet and who suffer from stress in their job, family or away from work, Viptamin-Complet may be the perfect solution for more vitality and improved quality of life. But why not see for yourself.
Viptamin-Complet unleashes an inner primal energy
Unleash your inner primal energy with Viptamin-Complet. Provide your body's cells with the natural building blocks of life. Guaranteed without chemicals – and your body will be bursting with vitality and energy inside.
The Viptamin-Complet formula is unique and stands for:
100% sustainability
100% quality
100% value
100% healthy nature
Viptamin-Complet: enjoy life more thanks to our research
Viptamin-Complet's formula has been developed, tested and continuously improved over the years. Now, at last, in 2018, naturopath Daniel Albisser-Meister has reached his ultimate summit. But even though the development of what is Viptamin-Complet's premium quality today has taken many years, your body will notice the beneficial effects of Viptamin-Complet within a very short time. Our customers from all over Europe have repeatedly told us how thrilled they are with the energy boost they get from Viptamin-Complet.
Viptamin-Complet sparks new vitality
Viptamin-Complet was invented to restore to your body its natural capacity for health and wellbeing. Experience for yourself how your vitality grows day by day when you take Viptamin-Complet.
Please note: If your body's cells are poorly provided for – due to junk food or synthetic vitamins, for example – you'll soon notice it directly; you feel off-colour and unwell.
However: If you supply your body's cells with what they need, your body will be bursting with energy, health and vitality.
Viptamin-Complet is the genuine provider of organic vitamins and minerals. You shouldn't be satisfied with anything less – because your body does know the difference.
Viptamin-Complet: ideal absorption, maximum compatibility
Commercially available vitamin tablets are extruded under pressure. The body needs a lot of time before it is supplied with those valuable vitamins.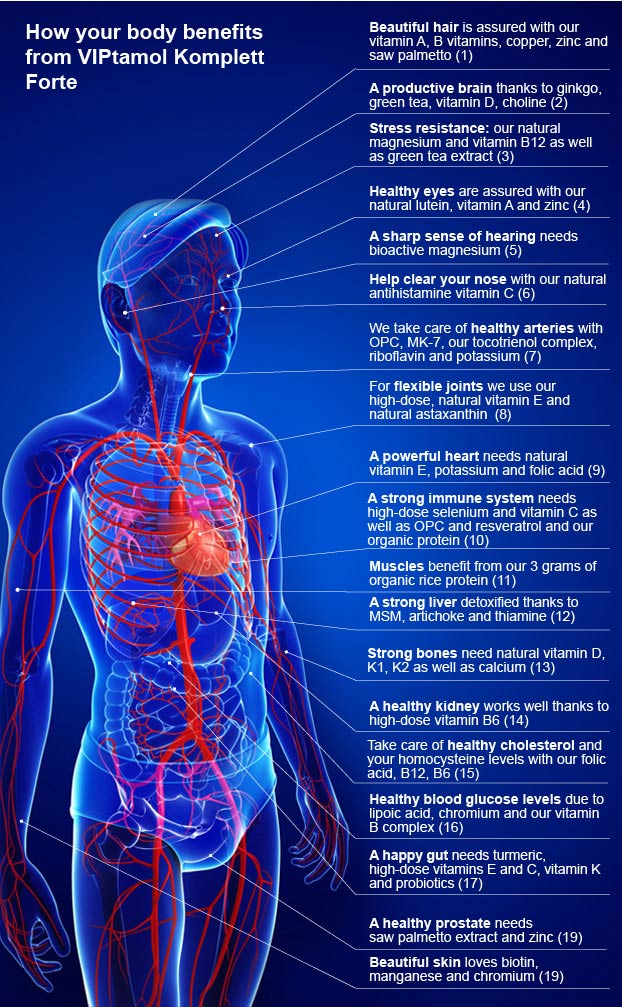 Viptamin-Complet is different. A spoonful of Viptamin-Complet powder is distributed completely in the stomach and intestines and is available for your system immediately.
Viptamin-Complet: new direct vitality
Viptamin-Complet…
Maximises cell nutrition
Contains powerful and protective antioxidants
The number one formula for physical and mental wellbeing
Outstanding anti-ageing components
Powerful multi-supplement without undesirable side effects
All the ingredients in precise scientific proportions
Viptamin-Complet: buy now with a money back guarantee
Of course you could also take your vitamins, minerals and trace elements with fruit and vegetables. You'd have to spend about €35.00 every day and have to eat almost 10 kilos of fruit and veg – every single day.
With Viptamin-Complet it's so much easier. Instead of €35.00 a day it's only €2.50. Instead of 10 kilos of fruit and vegetables, it's just a little beaker with all the vital nutrients in orthomolecular quality. The essence of many years of research is now available for your health's sake. For more vitality, energy and wellbeing – every day.
Viptamin-Complet: Enjoy your premium health products for only €2.50 a day
See for yourself how effective this turbocharge for more vitality really is. Order this premium health product, which naturopath Daniel Albisser-Meister has developed for you. Viptamin-Complet is your orthomolecular premium protection with over 50 essential nutrients.
Money back guarantee: If you ever have reason to be dissatisfied with Viptamin-Complet, simply call us or send a brief email and we'll give you your money back. No ifs and buts and up to three months after your purchase.