Maximum dosage. Maximum efficiency.
Hello and welcome to our site,
Developing health products for discerning people like you is the most wonderful challenge I could wish for.
The dietary supplements I have developed are high dose. Viptamin products also include selected vegetables, fruits and proteins of organic quality.
What this means for you is that products like these have the power to actually achieve an effect. They can be absorbed by your body very effectively. Furthermore, you will never find additives, sugar or other sweeteners in Viptamin products. We insist on this with our statute of purity.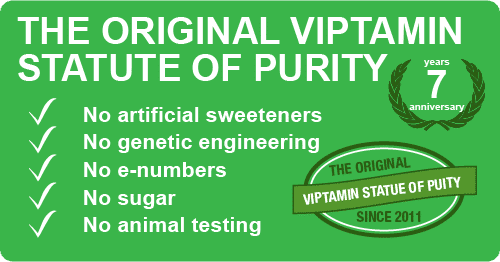 Nutritional supplements are not a replacement for a wholesome diet and healthy lifestyle, however, but they complement and enhance them. You can recognise good nutritional supplements in a well-conceived combination of active ingredients, their dosage and the quality of the raw materials. I work with a producer in the US, whose company is also under Swiss management. The purity of our raw materials is monitored by lab analyses.
You can always rely on them, as all our health products are certified. In addition, the Viptamin statute of purity applies to each individual health product.
No artificial sweeteners
No e-substances
No sugar
No animal testing
No genetic engineering
Price advantages with a subscription
In order to achieve effective positive changes with nutritional supplements, you should take them consistently over the long term. If you feel the same way, subscribe and we will reward you.
Benefit from our newsletter
Every Sunday you will receive Daniel Albisser-Meister's newsletter. So you can use the wealth of experience of an accredited naturopath for the good of your health.
Viptamin statute of purity
Quality depends on many different factors. Any compromise in just one area would only lower the quality level. Which is why we only accept the highest quality standards in each case and can provide you with a range of products that really meet the highest requirements.
When choosing products, we only accept those that meet the highest quality and safety standards.
Free health advice
Daniel Albisser-Meister is an officially recognised Swiss naturopath who has focused on treatments with vital substances and bioenergetics in his work for many years. Simply send an email to info@viptamin.eu or call us.
And be sure to read our free health newsletter.
Money back guarantee
Either you're satisfied or you get your money back.
If an item does not meet your expectations, you can return it to us without giving any reason within 30 days. The return period only begins on the day on which you receive the goods. To meet the deadline, returning it on time is sufficient.
Any questions? Here are the answers…
Do Viptamin products contain additives?
Are Viptamin products completely new?
Don't we all have enough vitamins anyway?
We respond to these and other questions on our FAQ page.
Strictest data privacy
Hackers and snoopers have no access to your data.
When making your purchase, you will see the SSL security icon in your browser line.
SSL is an encryption protocol that provides a secure transmission channel for various applications. To protect your data, Viptamin has a 128-bit SSL security certificate, which is virtually impossible to crack even on high-performance computers.
Certified ingredients in orthomolecular quality
As part of the development and manufacturing of our products, qualified pharmacists, nutritionists and food technicians monitor the entire production process.
Viptamin products are manufactured exclusively in inspected and certified production facilities and in accordance with strict hygienic guidelines.
Health has a lot to do with trying things out yourself. If something doesn't work, then try something else. And if it works, do more with it.