Why patients do not learn about alpha lipoic acid
Alpha lipoic acid has been known in medicine for over 40 years.
But patients, unfortunately, know far too little about it.
Detoxification of toxic heavy metals through alpha lipoic acid
Lipoic acid has tremendous abilities to rid the body of harmful substances. There is hardly a better way to protect the liver.
Alpha lipoic acid can bind with metals such as lead, cadmium, copper, arsenic and furthermore to cobalt, nickel and mercury. The toxic heavy metal deposits in membranes and tissues can be mobilized in this way and finally eliminated.
Lipoic acid against age spots? The research group for evolutionary pathobiochemistry at the University of Mainz confirms this. The reason: free radicals disrupt the functioning of the individual cell. If you don't have enough antioxidants to protect against them, breakdown products accumulate as brown slag in the cell and cause it to die. In older people, you can see this in the form of age spots. Lipoic acid has proven to be a particularly helpful antioxidant against age spots because it is the only antioxidant that is both water and fat soluble.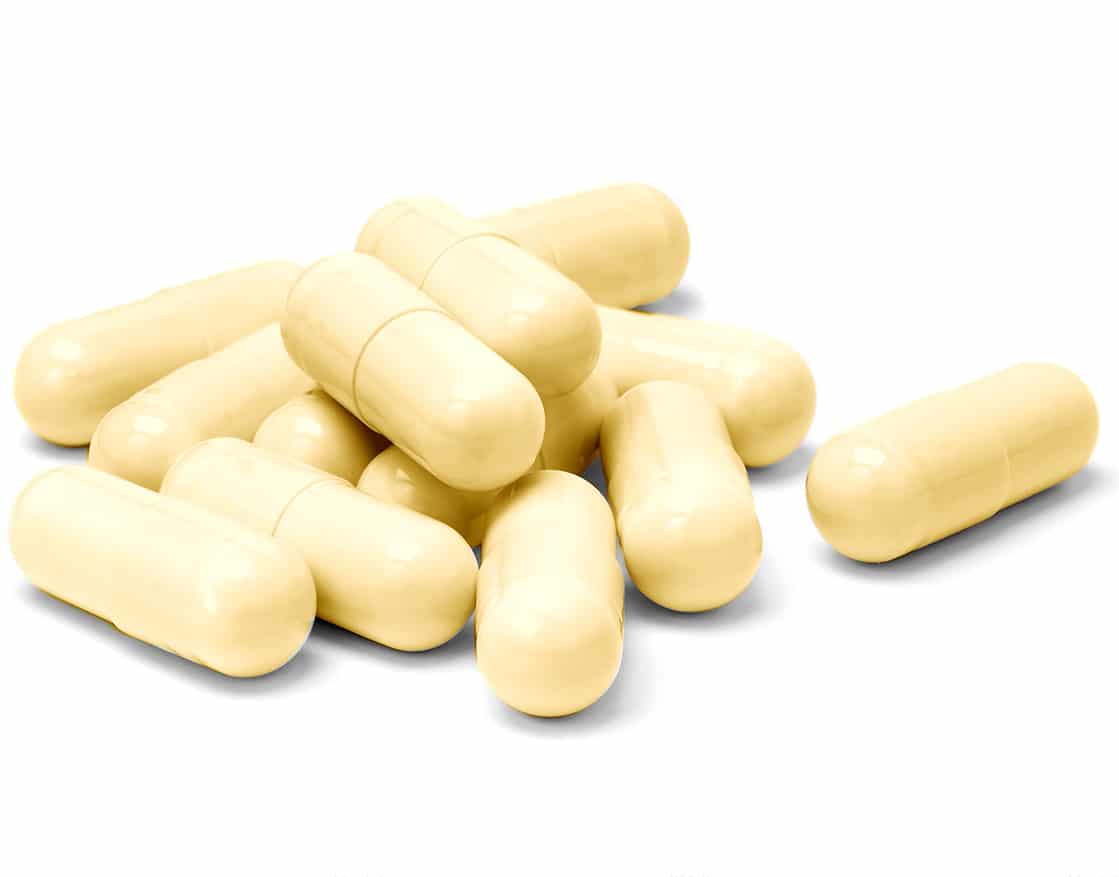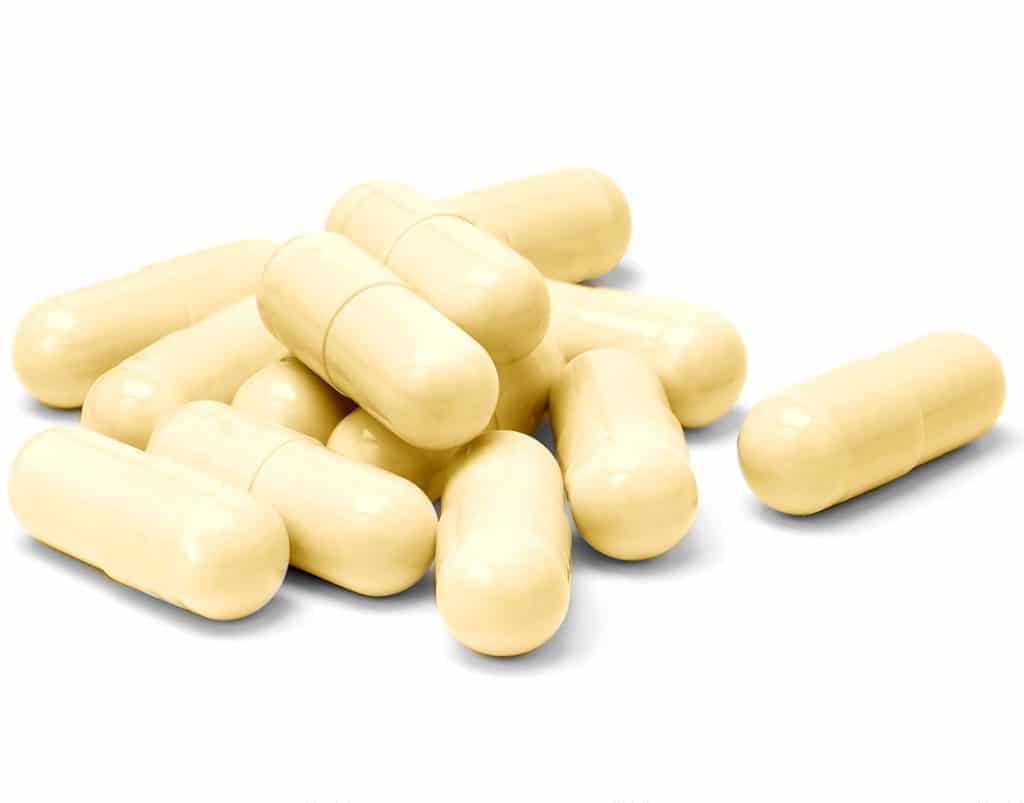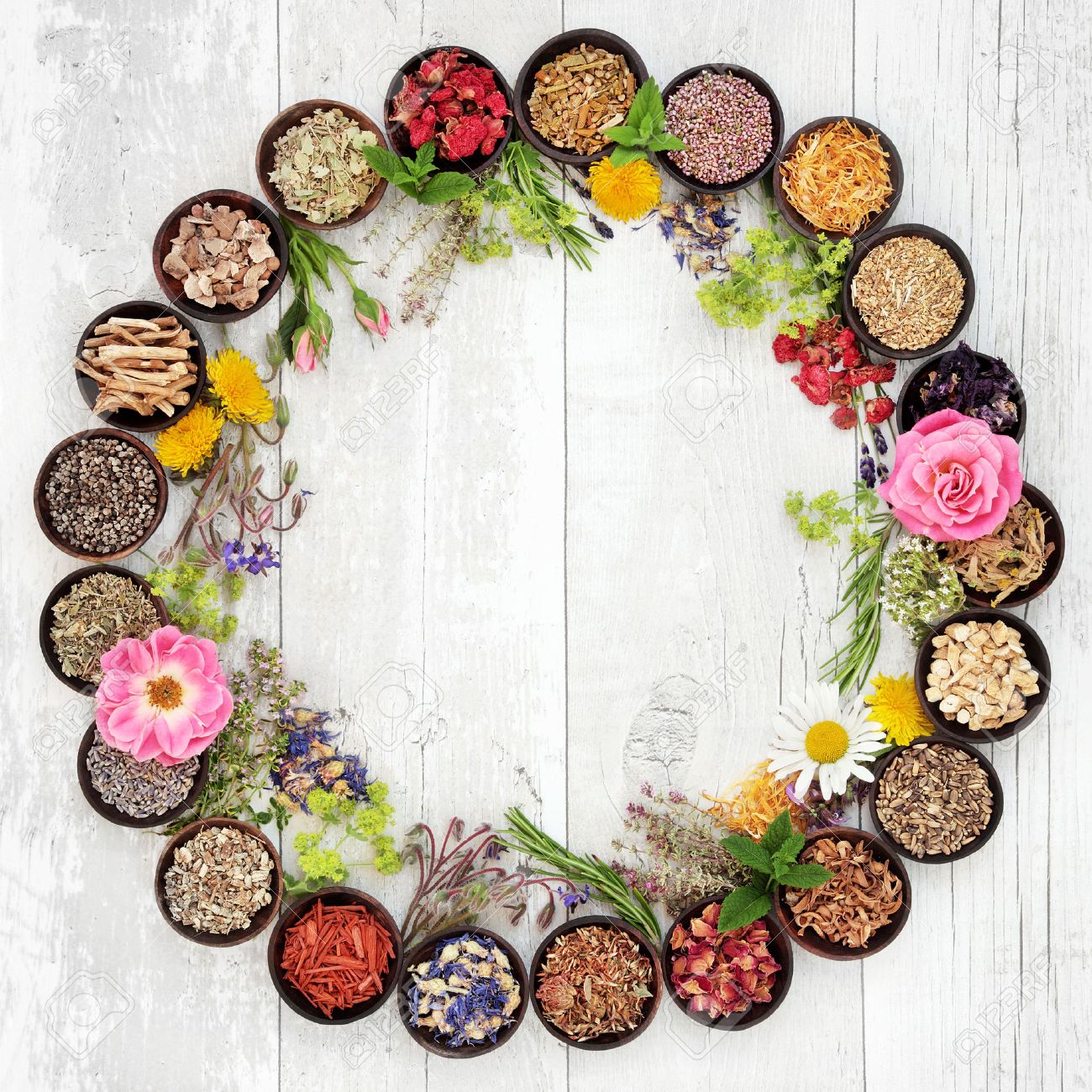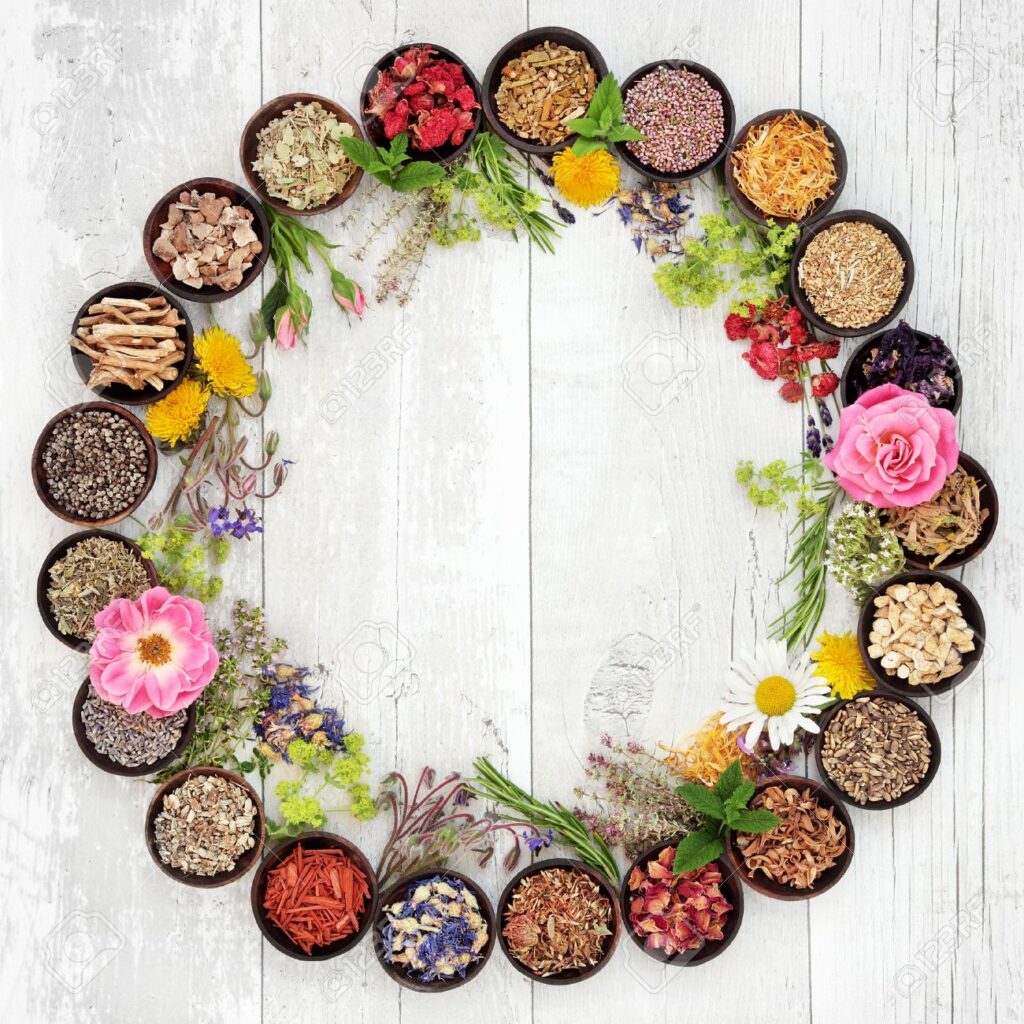 Only a few patients experience alpha lipoic acid
Few health professionals will tell you about thepossibilities with alpha lipoic acid. It is mainly naturopaths and alternative practitioners who know this substance. The reason: lipoic acid is not part of the medical training.
Since lipoic acid cannot be patented and is cheap, the pharmaceutical industry has no interest in many people finding out about it. Because she can't make money with such cheap, strong natural remedies. The money is made in the pharmaceutical industry with patented drugs that are used against symptoms instead of causes.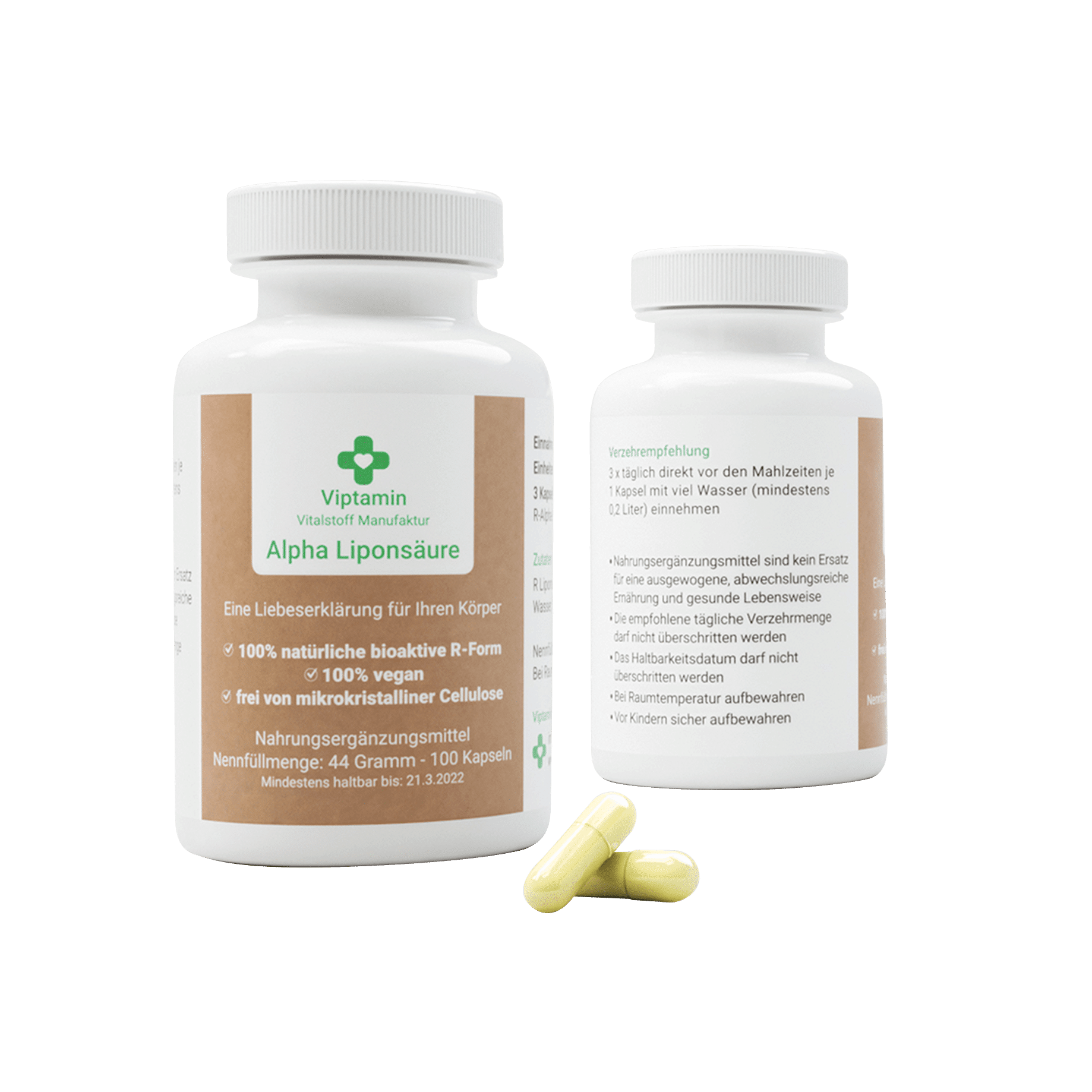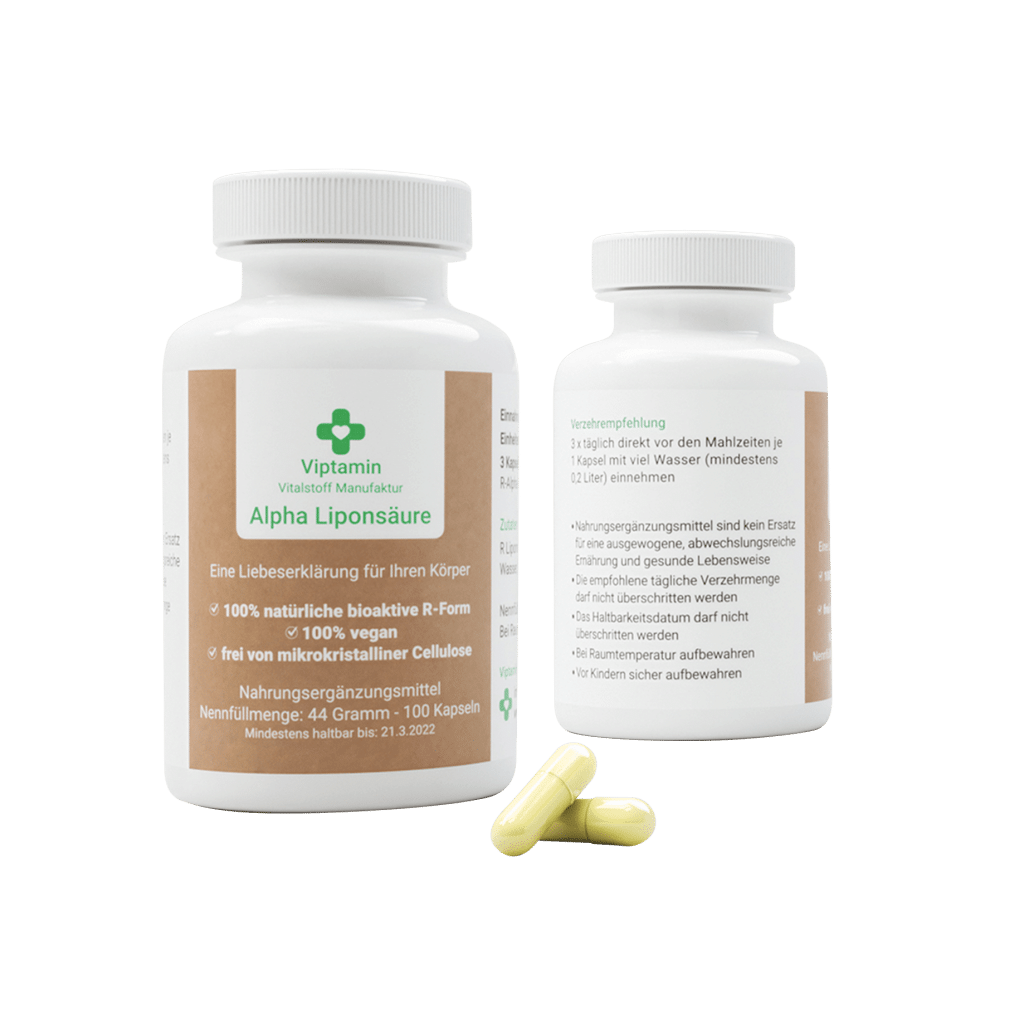 Alpha lipoic acid: look for the natural form
Viptamine Alpha Lipoic Acid is 100% natural and vegan , also without sugar or artificial sweeteners, no flavors, preservatives or excipients, free of lactose and gluten and not tested on animals.
Please compare prices and quality when buying lipoic acid. Specifically compare how much lipoic acid you are actually getting per capsule and if it is 100% the natural form. If the form isn't on the package, it's probably the cheaper, artificial form.A single capsule of Alpha Lipoic Acid from Viptamine contains 350mg of pure lipoic acid. We recommend 3 capsules daily – that is 1050mg daily. Remember: Only high-dose alpha lipoic acid has orthomolecular quality and thus the full health benefits.
For people who want to support their health in a natural way, Alpha Lipoic Acid by Viptamin can be the perfect solution for continued health into old age and lifelong vitality.natural

We have even more products on offer - for all those who strive for optimum health. For example, you can
buy
our high quality
ubiquinol
or view all products in the range.
View entire assortment


From 80 € cost
loose shipping

30 days
Right of withdrawal


Excellent
Price-performance ratio